Cheerleader Hire for Private and Corporate Events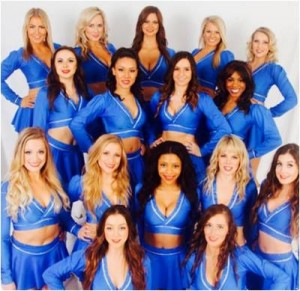 The London Cheerleaders are a fresh and exciting way of marketing your brand or product, by not only offering entertainment but an effective way of making sure your brand is firmly etched on the minds of your potential clients.
The Envisage team works closely with the London Cheerleading Team, who are the UK's number 1 team. You can hire this fantastic group of ladies for any event, marketing activity or PR stunt.
They have their own routines and can also tailor a routine to suit your requirements. You may only require a few ladies or a whole troupe, some of their services include :-
Private Events
Dance classes
Fitness classes
Cheerleading themed hens parties
Cheerleading themed Kid's parties
Performances at night clubs
Performances at parties
Corporate Events
Team builders
Performances at work parties
Greeting guests
Marketing via dancing in branded kits
Store openings
To find our more details and prices call our office on 0844 800 0071 or email us using the form below to send us your requirements.