Registration Staff and Desk Assistants
We provide hundreds of clients at exhibitions and conference with registration staff, desk assistants and hospitality staff. Our exhibition staff are well trained and have experience in many area's, product launches, conferences, demonstrations, sales staff, lead generation, in-store, roadshows, and sampling campaigns for large companies and sole traders.
Our staff are used to working at exhibitions, corporate conferences, large trade shows and product launches. They can check in your guests or delegates, issue passes, take down details or even carry out secretarial services. They are all hard working and happy to carry out any task from making coffee to selling your products.
They are multi skilled so once all your guests are signed in the can carry out other duties such as setting up rooms, handing out product information, organising and serving refreshments.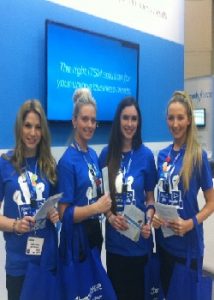 Some of our services include :-
Exhibition staff
Conference hostesses
Conference team leaders
Registration desk support, Computer, iPad or manual registration
Front of house and receptionists
Cloakroom attendants
Presenters & Speakers
Trade show hostesses
Auditorium support
Secretarial Support
VIP Hosts
Promotional Staff
Tea and Coffee Servers
Supplying the right registration staff!
Our registration staff can handle high volumes of people. They are professional, reliable, experienced and efficient. We cover all UK exhibition, hotels and conference centres. They will take control of the registration process so your visitors can enter the event quickly and then floor co-ordinators can help assist the guests and delegates throughout the day.
Once your visitors have all checked in, the staff you have hired can then carry out other duties from making coffee's, refreshments and handing out promotional material.
If you would like more details or a full inclusive quote for registration staff, click here to email us your requirements or call us on 0844 800 0071.