Hire for Professional Promotion Staff for Events at QEII Centre, London
Envisage Promotions is in an envious position. We work with big name brands and clients year after year, providing professional promotional staff for all kinds of events and at a wide range of venues.
Our sleek, professional and competitively priced service for events in and around London – and across the UK – is coveted by many companies and top brands. With professional promotion, you can really make your event at the prestigious QEII centre stand out.
How Professional Promotional Staff Make a Difference
Since opening in 1986, the QEII Centre has made great strides in becoming the go-to conference centre and venue in London. Less than 5 minutes' walk from Big Ben and the River Thames, the centre is served well by local tube stations as well as thousands of hotel rooms in the area, perfect for events spanning several days.
But hosting an event here or being an exhibitor at one of the many popular conferences or trade shows, means that your brand MUST stand out.
Promotional staff from Envisage Promotions, a leading agency, will make a difference;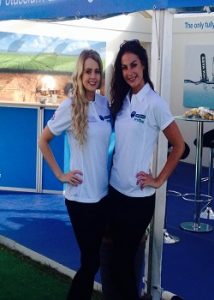 •Increase engagement – for any brand or organisation, a key objective to attending a conference or exhibition at the QEII Centre, London would be to connect and interact with customers, new prospects and stakeholders. With our briefed and trained promotional staff, customer engagement is significantly increased.
•Increase sales – not every event is about sales but if this is a key objective, our experienced sales staff can add a significant string to your selling bow.
•Increase leads – most purchasing decisions happen in the days and weeks after an event therefore, gathering contact details is critical. Our promotional and sales staff go one step further, they qualify leads, so you know you have quality prospects to pursue.
•Gather data and feedback etc – with a ready audience, it is a prime opportunity to gather information, feedback, opinions etc. on all manner of aspects of your brand, organisation and business. You just need engaging promotional staff to talk to a wide cross section of delegates and attendees as possible.
•Demonstrations and product launches – many brands choose to launch a new product or service at key events in the business calendar, including those held at this prime event centre. A combination of elements makes a successful launch, with professional demonstrators and promotional staff being one of them. Whatever you need, Envisage Promotions have the best talent!
•Create a buzz – the 'crowd effect' at a booth, stand or demonstration at an event is not to be underestimated. A crowd of people attracts more people – and our talented staff can be at the centre of this buzz, providing a vibrancy around your stand that gets people talking.
Hire Envisage Promotions for Your Next QEII Centre Event
With thousands of staff on our database, we have the promotional staff you need for your next event, whether that is a London-based trade show or an event anywhere in the UK.
We keep prices competitive because we use promotional staff as local or close to an event centre as possible, reducing travel costs. But, a priority is must be that you get the right people for the role you need them for.
Hiring promotional staff for your next event at the award-winning QEII Centre is a phone call away 0844 800 0071 or drop us a line using the contact form below.