Event Staff & Promotional Staff for hire in Southport
Looking for engaging promotional staff , event staff or Brand Ambassadors? Whatever your event may be, an exhibition, a corporate event, a trade show, a lead generation exercise our event staff have a huge amount of experience to help you get the results you want and need. If you are looking to generate leads and capture data or attract new business opportunities to your stand then we help you to select the promotional staff who will not only be the right image but will also get you the results. It may be you just want to create a buzz about your product or need a quirky publicity stunt to get you noticed, we can work with you to ensure you have the best possible people to help you to achieve this. We cover all areas in Southport and the whole of the UK, so this means we can supply you with locally based promotional staff and Brand Ambassadors saving you money as no travel cost to pay.
We pride ourselves on looking after our customers and treat them as we would like to be treated. We want you to enjoy working with Envisage so you come back to us time and time again.
Marketing Staff and Sales Teams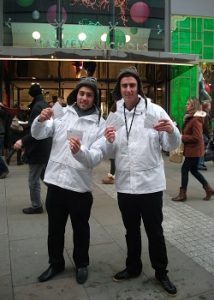 As one of the UK's leading promotional staffing agencies we have more than 10 years of promotional personnel staffing experience and knowledge. We hand pick professional experienced promotional staff that will get you the best results at your next event, we do not base it on looks alone. We can provide hostesses for VIP Hospitality, Conferences and Exhibitions.
We regularly provide brand ambassadors for events such as The Open and have a large team of flyering staff to hand out your company information. We have recently provided staff for the Southport flower show. During the event our staffed worked directly with the public to promote pension and financial services.
Promotional and Event Staffing
At Envisage we know that hiring the correct promotional event staff is the key factor in any event. Choosing a promotional agency to provide the the right staff for you isn't a decision that is taken lightly. Why not let us make that decision easy by providing the most experienced, hardworking and reliable staff? We have a wealth of experience, we can guide you and offer recommendations to ensure we meet your promotional staffing needs.
Get in Touch Today
Call us today on 0844 800 0071 for a free and fast no obligation quote or complete the enquiry form below