Hire Conference and Registration Staff
Organising a conference is a big deal with lots to think about. Finding the right venue, the location, the speakers, the MC/Host the list goes on and on. At Envisage we work with you to help ease the burden on the day by supplying very experienced conference staff that can help your day less stressful!
With so much to think about, hiring a team of people to perform the duties you cannot cover (you can't do everything after all) during the conference frees you up to make sure everything else is under control.
It's the little things that can make a real difference. Hiring cloakroom attendants to manage the incoming and outgoing clothing, Runners to deliver and collect items that are needed throughout the conference or even hiring a conference hostess to meet delegates at the airport so they feel very important and are overwhelmed with the attention to detail.
What staff might be needed for your next conference or exhibition?
At Envisage we are in the fortunate position that we have more than 12,000 event staff across the UK so wherever you might be planning to hold your conference, business meeting or exhibition we will have the right event staff available to assist you. It maybe that you need a wide range of staff with different skill sets at the conference? We can pretty much cover any staffing need you dare to throw at us including….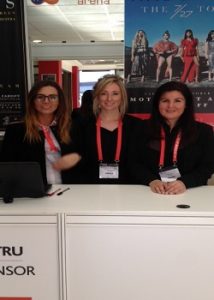 • Conference hostesses
• Conference team leaders
• Registration desk support
• Front of house and receptionists
• Cloakroom attendants
• Exhibition staff
• Trade show hostesses
• Promotional Models
• Auditorium support
• Conference & congress staff
• Conference supervisors
• B2B exhibition staff
• Runners
• Delegate movement
• Assistance with one-on-one meetings
• Airport meet and greet staff
• Auditorium personnel
• Riggers – Set up / pack down
Finding conference and exhibition staff!
Hiring a team of conference staff to help at your next event could not be easier. Our team will take the time to listen and understand your requirements and we are more than happy to throw in a few ideas of our own which we think will help make the conference a huge success.
You can pick up the phone, have a chat with us and we will send over a detailed quote for your consideration. Alternatively complete our enquiry form and we will have a quote over to you within the hour. We can't wait to hear from you!