The 4 Biggest Mistakes that Exhibitors Make When Hiring Promotion Staff (and How to Avoid Them!)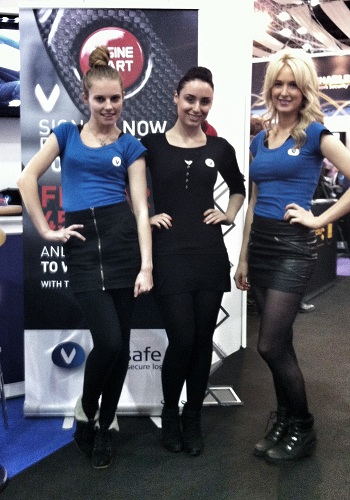 Engaging with potential customers and making a lasting, positive impression is the big trick that all brands want to master at their next trade show. When you don't have the right promo staff behind your brand, everything from your sales to the customer experience can be negatively impacted. By working with a quality promotional staff agency, you can hire people who are excellent at what they do. Avoid these four common hiring mistakes to ensure you're making a sound investment.
Mistake #1: Waiting until the last minute to hire promo staff.
Since your staff has such an important role, it's foolish to wait until the last minute to hire them. Your staff needs to know their promotional staffing duties and your company's goals well in advance. If there's a script for the staff to learn, they should receive it a minimum of four weeks before the event. At least one week before the event, they should have a detailed schedule that includes contact information, addresses, dress code guidelines, job roles and objectives.
When you wait too long to hire, your staff members won't have enough time to learn about your brand and understand their promotional staffing duties. Plus, the agency's most reliable workers could be already booked for another event. Start looking for staff a minimum of three months in advance and remember that the best staff members are booked anywhere from six to twelve months before an event.
Mistake #2: Choosing the agency that costs the least.
It's fine to shop around for an agency that fits your budget, but don't default to using the cheapest agency out there. If you want to get value in return for your money, you'll need to spend more than the bare minimum. Think about it – if an agency is charging a low rate, how much could they possibly pay their staff? How motivated and interested will underpaid staff members be? When considering a promotional staff agency, the price point should only be one of the deciding factors. Paying a cheap rate might save you money now, but it could cost you in the long run.
Mistake #3: Not communicating with the promotional staff agency.
Good agencies will let you choose your staff instead of simply sending whoever they have available. Ask if you can look through the database to view profiles of available staff members. You can also explain to the agency what you're looking for and have them handpick staff members who you can further vet. Also, find out about the backup policy in case staff members get sick or don't show up. It's best to work with an agency that will have an account manager available while your event is taking place so that you can have any emergencies handled as quickly as possible.
If the staffing agency has a huge amount of workers, find out how they recruit them. An agency that has 20,000 members may seem like they have a lot of people to choose from, but it's possible that they're prioritizing quantity over quality.
Mistake #4: Hiring staff based solely on their appearance.
It can be tempting to immediately hire staff members who look the part and make a great first impression. While you'll want to make sure your promo staff reflects the brand image, it's important to also check their credentials before making a hiring decision. Your staff needs to have the right appearance in addition to meeting company objectives and getting along with the rest of the team. The best way to find out if they're a well-rounded fit for your brand is by interviewing them, either in person, via video chat or at least over the phone.
The day before the trade show, hold a briefing session with the team and have presenters do final rehearsals of the demonstration. On the day of the trade show, make sure to remain positive in order to motivate your staff. Treat them respectfully and professionally, as if they were your own employees. Following the show, hold a debriefing meeting to ask for feedback regarding customers, competitors and the event overall.
Need help hiring promotional staff?
If you have an upcoming event and will be needing experienced promotional staff then make sure you don't make the above mistakes. Simply call Envisage Promotions who will be able to help, advise and source you the very best staff for your event.