How to Become an Grid Girl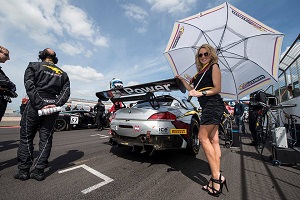 Okay then, here is the Envisage Promotion guide to being a Grid Girl…
What is a Grid Girl?
Grid Girls are hired by companies to promote a bit of sexy glamour to events. Most of the events where you will see Grid Girls have a Motorsport Events theme such as British Superbike's, Superbikes and MotoGP. You can expect to see Grid Girls off the race track too at events such as Modified Vehicle rallies, Car shows and Owners Club meetings.
The glamorous girls don't always go by the term Grid Girls either. Often referred to as Umbrella Girls and Paddock girls to reflect the motoring connections and the duties they undertake.
It's not only the car or bike manufacturers that hire the services of the Grid Girls but also the various race sponsors at the motoring events. Grid Girl is the generic term (along with Umbrella and Paddock girls) used for this shonra of Promotional Model but the duties at the event may take the Grid Girls no where near the Grid! A lot of the sponsors use the Grid Girls to undertake Leaflet Distribution, Product Sampling, Data Capture, and work as Lead Generators.
Could you be a Grid Girl?
Well there is a question. There are some very obvious requirements such as looking sexy, having a fantastic figure (and not afraid to show it off) and being comfortable and embracing the attention that will come your way. The question should really be…"Can you be a Confident Grid Girl? Because as one fashion icon keeps telling us ….."It's all about the confidence."
The Best Grid Girls not only look amazing but stand out and are remembered by the public (and the companies that hired them) because of their warm approachable nature,, outgoing personality, and most importantly a professional attitude.
I want to be a Grid Girl!
The decision is made then, you want to do it. Good for you, it's a fantastically rewarding career. First thing is to contact a Promotional Model Agency or Event Company where they will talk through exactly what you need to do next. Typically Event Companies and,Promo Agencies will need your portfolio of pictures and your CV Make sure you use a professional photographer if you want the agencies to take you seriously.