Earls Court and Olympia Promotional Staff & Event Staff
Looking for exhibition staff, tradeshow models, sales staff, hostesses or data capture staff? Envisage Promotions have supplied hundreds of promotional staff and promotional models for all kind of events for hundreds of different companies at  Earls Court and Olympia in London.
Located in the district of Royal Borough of Kensington and Chelsea in London Earls Court and Olympia is a fantastic venue and this year celebrates 125 years of hosting exhibitions and shows. Over the years, the venues have hosted shows from the British Motor Show to the Great British Beer Festival. In addition to the diverse range of exhibitions it has welcomed world famous rock artists including Madonna and Queen.
Events at Olympia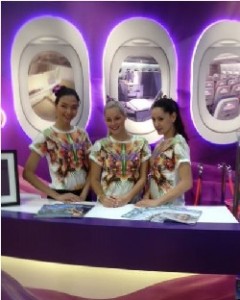 Over the years Envisage Promotions promotional staff  have been booked many times and it is quickly becoming our spiritual home. Most recently our exhibition and tradeshow models spent many a happy hour at Earls Court working with Virgin at the Gaming expo to promote the new Virgin gaming range and The Restaurant show which is an event designed exclusively for the UK's restaurant and food service industry.
Promotional Models Earls Court & Olympia London
Whatever the event you are running at Earls Court Envisage Promotions is the staffing agency to use. We have thousands of promotional girls and Promotional boys for you to hire at your next event. We have hundreds of our promotional team in London so there is no shortage of professional, experienced and reliable exhibition staff to hire. If you are looking for data capture staff, tradeshow models, exhibition staff, promotional models or even mascots and costume character performers we have them all.
To discuss your Promotional Staff for Earls Court call our promotions team on 0844 800 0071 and we will be delighted to discuss how we can help.